Wallace Award Winner Tejaswi Bhavaraju shares his summer highlights
"... [T]he Wallace Award was immensely helpful in financially supporting my internship travel and research expenses."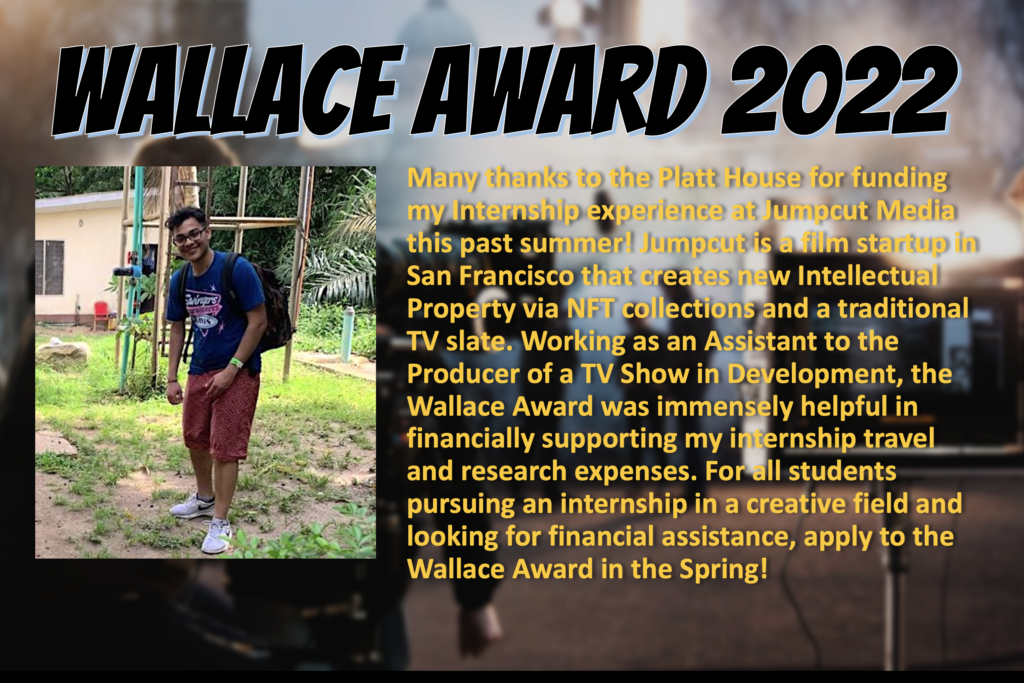 Teju is the recipient of a $3000 stipend to fund his summer internship experience, which for past awardees has been used to cover transportation, wardrobe, or living expenses for paid and unpaid work in the performing arts and entertainment industries.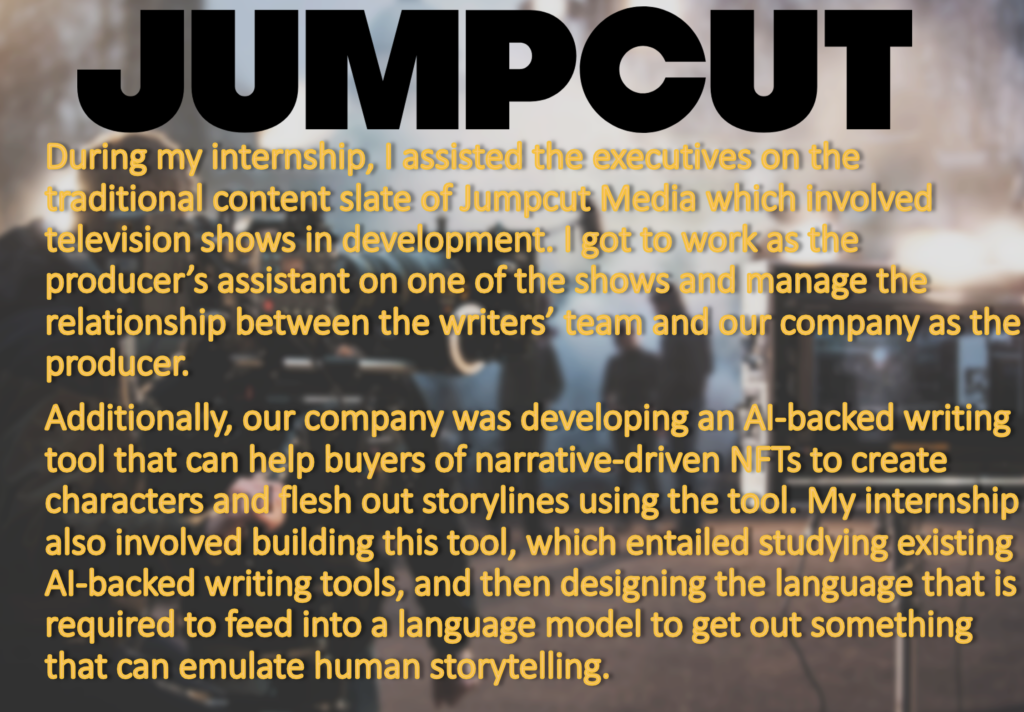 Black Arts in the Spotlight

We're reaching across Philadelphia to gather up some of the Black joy, Black experiences, and Black art happening near you! The Black Arts Series is a platform for artists at Penn to connect, inspire each other, and perhaps – collaborate! This effort centers on supporting and spotlighting student performing arts groups, particularly those who have been hard hit by membership drops during virtual and remote activities of the pandemic. Visit the Black Arts Series page to learn more.
SPAN returns to the stage
After two years of virtual presentation, the annual Student Performing Arts Night returned to the Zellerbach stage this fall! Our students held on to the benefits of digital accessibility by livestreaming to show to over 600 screens across the globe, reaching audiences from Peru to Malaysia. The show kicked off an energetic audition season for our 60+ PAC and Independent student performing arts clubs.
Missed the show? Watch this recording of SPAN 2022, courtesy of Penn Live Arts and University Life.
Jaden Cloobeck launches memory project online
"A Covid-19 Archive for Performing Artists at the University of Pennsylvania"

This Covid-19 archive for performing artists at Penn is a memory work proposal created by Jaden Cloobeck, C'22. Its mission: "to document and archive the stories of student-performing artists and arts administrators to heal, remember and celebrate the resilience of the student performing arts community at the University of Pennsylvania." Click here to explore the student testimonials and learn more. 

Jaden is also the host of Season 2 of our Backstage @ Platt House podcast: Performing Arts in the Pandemic! Listen to episodes here.
Native American Heritage Month
November is Native American Heritage Month!

Native American Heritage Month is about uplifting and celebrating the ancestry, traditions, and cultures of Indigenous people. We also use this visibility as a chance to reinforce education (and the un-learning of American History myths), gratitude, and allyship to support our Indigenous faculty, staff, and student peers.

What makes a good Land Acknowledgement? Who are they for? What do Land Acknowledgements mean in the age of digital gathering and remote learning? We encourage everyone to spend some time with this presentation from our October PAC Conference.

Penn's Native American Community council a series of video seminars on the intersection of Indigenous identity with art, health, and political science. Find Zoom links to those Zoom events here!

 


Click through the post on our Facebook page or on Instagram, and visit the linked resources below:
Stopping the Hate and Starting to Heal
Stopping the Hate and Starting to Heal: Living With and Through the COVID-19 Pandemic
An Invitation to a Guided Session of Healing, Processing, and Community-Building for Penn Asian and Asian American Alumni, Graduate/Professional Students, Undergraduate Students, Faculty, Post-Docs, and Staff
In these challenging times University of Pennsylvania Asian Alumni Networks (UPAAN), Penn Spectrum, International Student & Scholar Services (ISSS), Graduate and Professional Student Assembly (GAPSA), Undergraduate Assemblies (UA), Graduate Student Center (GSC), Pan-Asian Faculty & Staff Association (PAFSA) and Pan-Asian American Community House (PAACH), in partnership with Counseling & Psychological Services (CAPS), Special Services, Restorative Practices @ Penn, and Penn Global have come together to offer a healing, processing, and community building space for Asians & Asian Americans who have experienced or are concerned about anti-Asian bias or harassment related to COVID-19. This pandemic, and the hateful rhetoric which has sprung up around it have directly and indirectly harmed many in our community – the Circle will be an opportunity to process with others who have similar experiences and support one another as a community.
These Circle spaces are an opportunity for people with direct lived experiences of anti-Asian racism, bias, or harassment to share their stories and be in community with others who have similar experiences.
Faculty session
Wednesday 3/17, 12:00 PM -1:30 PM ET, Facilitators: Dr. Anh Le (faculty) & Dr. Rupa Pillai  (faculty)
Staff session
Thursday 3/18, 2:00 PM – 3:30 PM ET, Facilitators: Rae Chaloult (staff) & Peter Van Do (staff)
Undergraduate Student sessions
Saturday 3/20, Time: TBD (2pm or 3pm ET), Facilitators: Kevin Park (young alum) and Qingrong Ji (undergraduate student)
Tuesday 3/30, 7:30 PM – 9:00 PM ET, Facilitators: Sue Yee Chen (young alum) and Jun Li (alum)
Alumni sessions
Wednesday 3/24, 8:00 PM – 9:30 PM ET, Facilitators: Ling Yeh (alum) and Phil Kim (alum)
Graduate & Professional Student sessions
Thursday 3/25, 10:00 AM -11:30 AM ET, Facilitators: Vivien Yiu (graduate/professional student) & Linshuang Lu (alum)
Thursday 3/25, 8:00 PM – 9:30 PM ET, Facilitators: Richard Le (alum/staff) & April Zhou (graduate/professional student)
Registration link for this event is available at our dialogue series website: http://bit.ly/STOPPINGHATE
You will receive the meeting link to your session of choice upon registration.
Please join us to gather with others with similar experiences to heal, build, and be together.
Thursday, March 18th, 8:00 PM – 9:30 PM ET
ANTI-RACISM & MENTAL WELLNESS WORKSHOP w/ Dr. Ramani
Anti-Racism & Mental Wellness Workshop: Turning off the Gaslights and Illuminating Brave
 
Dr. Ramani Durvasula (MedCircle, SxSW, TEDx, the Red Table Talk, the Today Show, Oxygen, Investigation Discovery) is a licensed clinical psychologist in Los Angeles, CA and Professor of Psychology at California State University, Los Angeles, and the Founder and CEO of LUNA Education, Training & Consulting, a company.
 
Registration link for this event is available at our dialogue series website:
http://bit.ly/STOPPINGHATE
Message from Platt House and the PAC Shop regarding Anti-Asian and Anti-American Acts of Violence
Platt House and the PAC Shop join the University community in condemning anti-Asian and anti-Asian American acts of violence, including the recent attacks in Atlanta. We want to reiterate that as a department at the University, we support you and stand with you in solidarity against these abhorrent and violent actions of racism and white supremacy. 
We are so grateful to our colleagues in the Pan-Asian American Community House (PAACH), Penn Global, and members of the Task Force on Support to Asian and Asian American Students and Scholars (TAAAS) for their work on addressing this ongoing crisis. Please visit the TAAAS website to learn more about this work and the FlattenTheHate campaign.
Additionally, PAACH and Penn Global are offering the upcoming opportunities to engage:
Turning off the Gaslights and Illuminating Brace Spaces – Anti-Racism & Mental Wellness Workshop featuring Dr. Ramani Durvasula
Thursday, 3/18, 8pm-9:30pm ET
Register here: http://bit.ly/STOPPINGHATE

Stopping the Hate and Starting to Heal: Living With and Through the COVID-19 Pandemic
Restorative Practice Circles for the Penn Asian & Asian American Communities
Circles for Undergrad, Grad, & Professional Students, Faculty, Staff, Post-Docs, Faculty, Alumni
Dates and Registration link available here: https://paachatupenn.ticketleap.com/
More information on these programs can be found below.
Platt House is hosting a Performing Arts Anti-Racist workshop for interested students in April. For more details, and to sign up, please visit our site: https://upenn.co1.qualtrics.com/jfe/form/SV_6kTMjiFAn2XTs8K
We send our support to our Asian and Asian American community members. We see you, and we are here to support you.
Sincerely,
Platt House & PAC Shop Staff
Laurie McCall
Megan Edelman
James Grant
Sara Outing
Amanda Labonte
Michelle Moller
A Message to the Platt House Community – Black Lives Matter
Dear Students,
We are reaching out to all of you during this incredibly turbulent and painful time to offer our support and resources and to hold ourselves accountable for those pledges.
We condemn the injustices that continue to devastate our community – the murders of George Floyd, Breonna Taylor, Tony McDade, Ahmaud Arbery, and thousands of others; the perpetuation of white supremacy and police brutality; all amidst the backdrop of healthcare inequity and tragic losses from COVID-19.
We are inspired by the work of our campus partners to create spaces to address these injustices. We cannot pretend to imagine what each of you is feeling, but we want to make sure you know that we are here and listening. You are seen, and you are heard, and you are valid.
In acknowledging the pain of our community, we must also acknowledge that silence is harmful. During the time that it has taken for our staff to process; to listen; to coordinate and craft our message; and to check in on each other, our friends, and our students – this public platform has been silent, and therefore we have been complicit in this harm. We must do better.
Artists have the power to inform, create empathy, and offer healing to individuals and communities. In times of joy, in times of anger, in times of need, in times of pain, we look to artists to lift us, to create space for us, to provide meaning for us. As artists, each of you has a tremendous gift. You may not be in a place to use it right now, and you should not feel pressured to. Each person needs something different in the midst of tragedy. Listen to yourself and to what you need. We simply want to remind you of the power within.
As we all continue to process, Platt House staff is here to listen. If you want to articulate things you need from us or things you would like to see happen, you can reach our full team at platthouse[at]pobox.upenn.edu.
In the meantime, Platt House and PAC-Exec are collaborating to create spaces for open discussion among Penn students, beginning with a live, digital space to check in and talk about anything that may be on your mind. We plan to follow this event with additional check-ins in different formats and the opportunity for our students to offer written feedback, to help inform further programming. Our goal is to build programs that don't simply address our own impulse to help, but that are thoughtful, thorough, and responsive to your needs. We will do this work with our student leaders, our peers and our campus partners, holding ourselves and each other accountable for continuing this work.
While we prepare more helpful guides and programs, please do not hesitate to contact us and other campus centers. We're all processing this moment differently, and we will look to a variety of resources that may help us to listen, to speak, to understand, and to heal.
We stand in solidarity with anyone who is experiencing this trauma and with those who are fighting back. Black lives matter.
Sincerely and with respect,
Platt Student Performing Arts House
The following University resources remain available to you while campus operates remotely:
CAPS
Student Health
Office of the Chaplain
Makuu Black Cultural Center
La Casa Latina
Pan Asian-American Community House
Greenfield Intercultural Center
LGBT Center
Penn Women's Center
Graduate Student Center
Family Resource Center
Restorative Justice Book Club & Optional Discussion Sessions (details below)
Restorative Justice Book Club Meetings – Second Fridays June, July and August (6/12, 7/10, and 8/14 from 1-2:30pm EDT)
Optional Discussion Sessions from Restorative Practices @ Penn – 6/26, 7/24, and 8/28, from 1-2pm EDT
Are you interested in Restorative, Transformative, or Healing Justice? Would you like to build community with classmates and work to bring this movement to Penn? Restorative Practices @ Penn is hosting a monthly book discussion this summer, open to anyone interested, no commitment required!
Sign up to share your book preferences and to be notified about the book that is chosen, and the articles/videos selected for the additional conversations. Feel free to drop in or invite friends along the way! Please reach out to pcerdera[at]upenn.edu for information about financial support. Space may be limited, so please indicate your interest soon! https://forms.gle/7kLBexw7SvhfLsBd7
Announcing an expansion to our Community Ticketing Program!
Free Tickets to Student Shows
Platt House's Community Ticketing Program has expanded to better serve students as well as community partners, facilitating greater engagement with our performing arts groups by keeping ticket costs from being a financial barrier. Learn more here!