PAC Con is an annual gathering for performing arts groups to learn, share, and build community. 
Register now for PAC Con 2022!
This year's PAC Conference begins on Thursday, September 29 and runs through Sunday, October 2. 
PAC Con is open to all students with an involvement in the performing arts. Check the session listing and RSVP to let us know you're coming!
For PAC Groups, mandatory attendance is as follows:
Pre-Prod | Treasurer Training: Thursday, 9/29 @ 3:30pm-4:20pm, Platt House
Treasurer or Business Manager must attend if group is SAC-funded.
Pre-Prod | Meet Your Partners: Thursday 9/29 @ 3:30pm-4:30pm, Platt House
Producer must attend if group is staging a Fall Semester production.
Pre-Prod | The Big Meeting of Forms: Thursday 9/29 @ 6:00 – 6:50pm, Platt House
Producer and/or Technical Director must attend if group is staging a Fall Semester production.
Pre-Prod/Tech | How to Work with an Audio Engineer:  Thursday 9/29 @ 7:00 – 7:50pm, Platt House
Producer or Musical Director must attend if group uses multiple microphones to perform.
Pre-Prod/Tech | Load-ins and Uhauls and Strikes (Oh my!): Friday, 9/30 @ 6:00-6:50pm, Platt House
Technical Director must attend if group uses theatrical scenery (this includes all TAC-e groups, Penn Singers, Bloomers, Mask & Wig, and Glee Club).
Wellness & Belonging | Crafting and Supporting DEI Positions: Friday, 9/30 @ 2pm-2:50pm, Platt House
This session is specifically for groups who have already created positions specific to Diversity, Equity, Inclusion, and Access initiatives, like DEI Chairs, etc. DEI Chair and at least one other board member must attend if group has a DEI-related position.
Tech | Saw And Order: Thursday 9/29 @ 7:00 – 7:50pm, PAC Shop; Saturday, 10/1 @ 6:00-6:50pm, PAC Shop
This session is mandatory for anyone planning to build in the PAC Shop. It will be repeated throughout the semester.
And 20% of your membership to any sessions of their choice, not including meal breaks.
Contact the PAC Exec Board if you have questions or conflicts that prevent you from meeting your attendance quotas.

Once you're registered for the conference, use the heart icon or Book button to RSVP for individual sessions!

During PAC Con, you'll be invited to join a campus-wide scavenger hunt on Goosechase to gain points for your team! The winning team will be awarded a special prize, to be announced. Join the Goosechase after you register for PAC Con.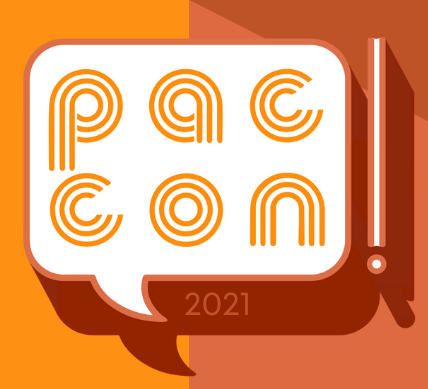 PAC Con 2021: Reorienting, Resetting, Reuniting
The fourth annual PAC Conference on September 23-36, 2021 was organized in partnership with the 21-22 PAC Exec Board, the Office of Student Affairs, Venue Partners, and Philly Asian Performing Artists.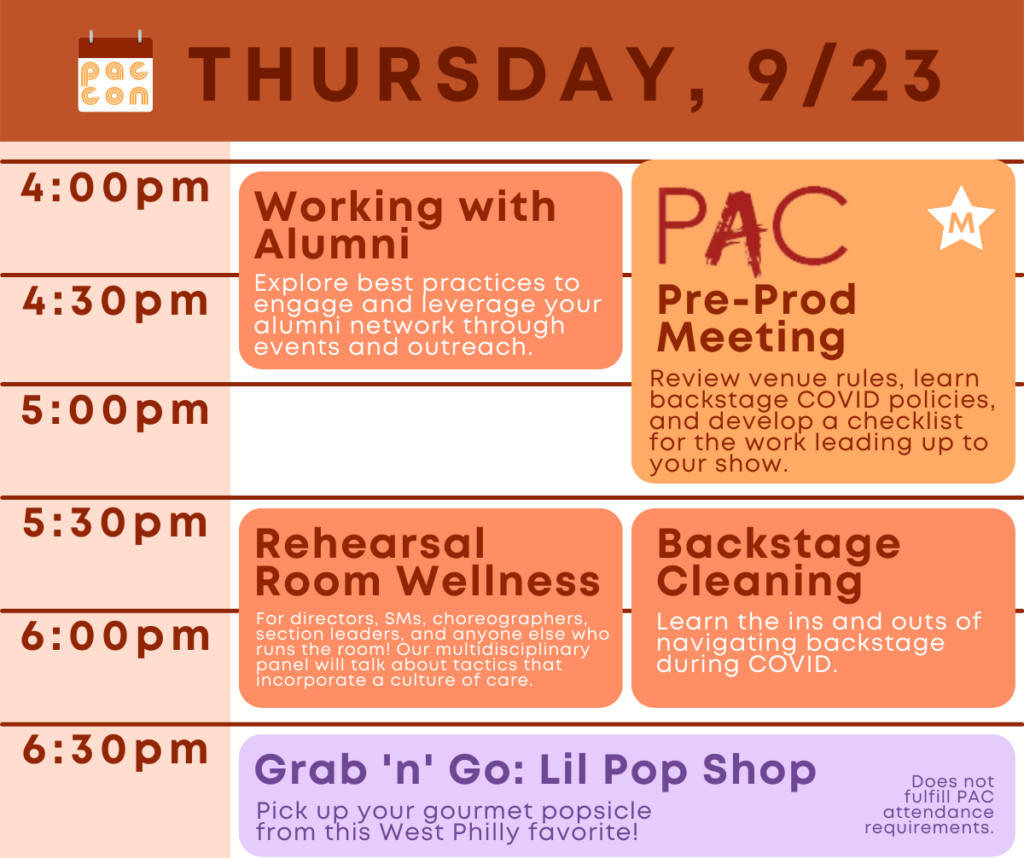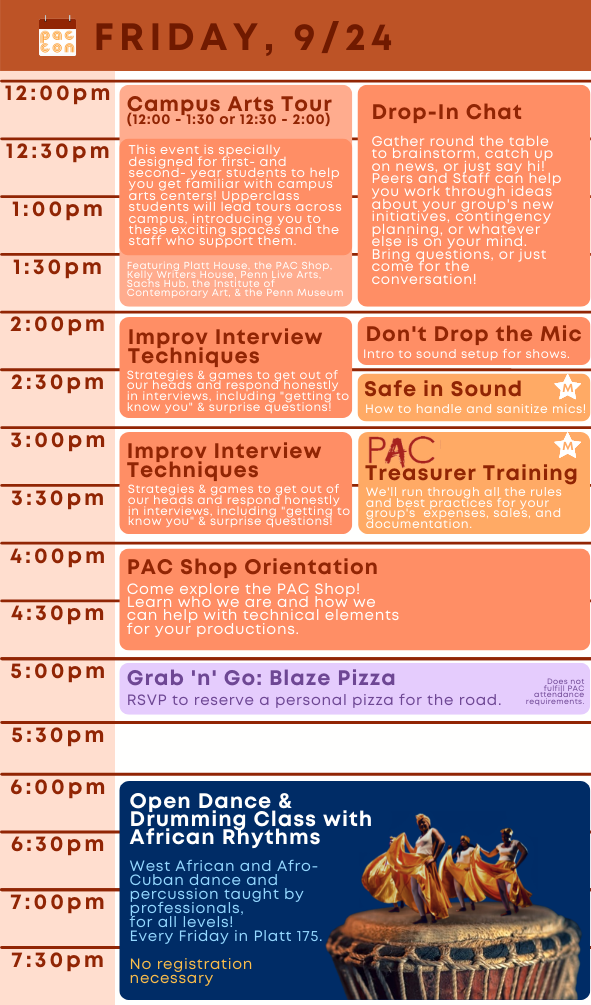 Friday, 9/24
Campus Arts Tour 
This event is specially designed for first- and second- year students to help you get familiar with campus arts centers! 
Drop-In Chat 
Brainstorm, catch up on news, or just say hi! Peers and Staff can help you work through ideas about your group's new initiatives, contingency planning, or whatever else is on your mind.
Improv Interview Techniques 
Improvisational techniques and games to learn how to get out of our heads and respond honestly in interviews. 
Don't Drop the Mic
Learn basic sound setup including how to set up microphones for your productions. 
Safe in Sound [M]
Learn proper care and sanitization techniques for the different styles of microphones. Watch a recording here.
PAC Treasurer Training [M] 
Best practices for group purchasing, sales, and documentation. 
–  Watch a recording 
– OSA Treasurer Training Document
– SAC Presentation Slides 

PAC Shop Orientation (4:00pm-4:50pm)
Explore the PAC Shop to learn how we can help with technical elements for your productions.

Grab 'n' Go: Blaze Pizza (5:30pm)
RSVP to reserve a personal pizza for the road.
Open Class Series: Dance & Drumming with African Rhythms (5:30pm)
West African and Afro-Cuban dance and percussion taught by professionals, for all levels!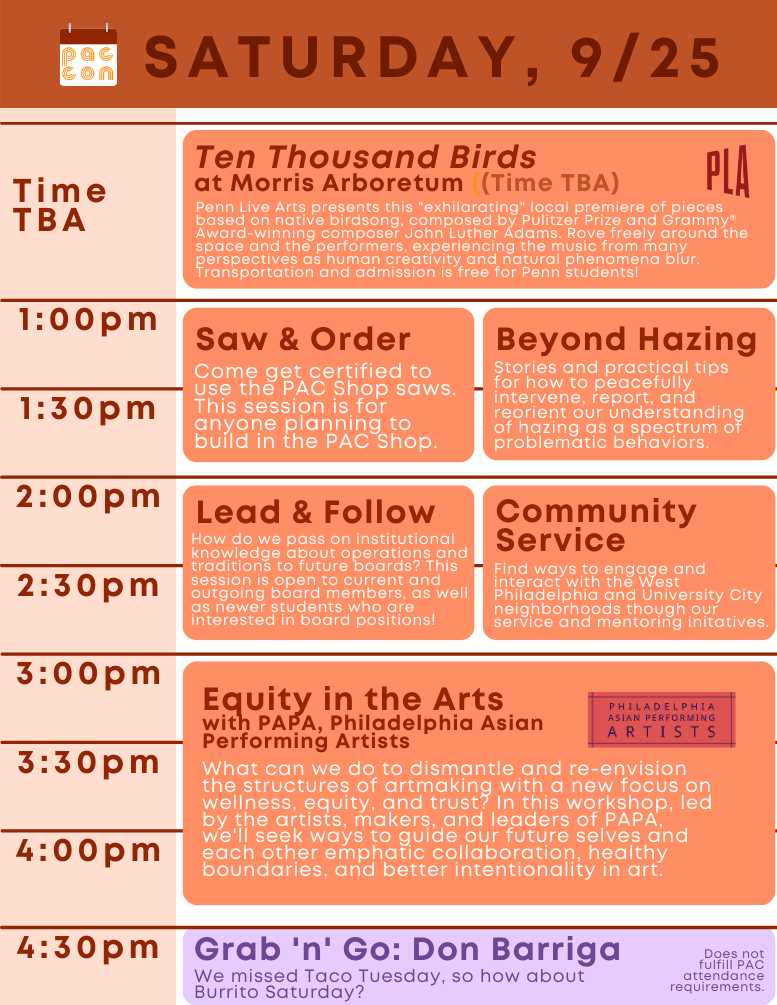 Saturday, 9/25
Ten Thousand Birds at Morris Arboretum
Penn Live Arts presents this experiential, open-ended collection of pieces is based on native birdsong.
Saw & Order 
Come get certified to use the PAC Shop saws. This session is for anyone planning to build in the shop.
Beyond Hazing 
Hazing prevention, intervention, reporting, and reorienting our understanding of hazing as a spectrum of problematic behaviors.

Lead & Follow
How do we pass on institutional knowledge about operations and traditions to future boards?
Community Service
Find ways to engage and interact with the West Philadelphia and University City neighborhoods though our service and mentoring initiatives.
Equity in the Arts with PAPA, Philadelphia Asian Performing Artists 
What can we do to dismantle and re-envision the structures of artmaking with a new focus on wellness, equity, and trust?

Grab 'n' Go: Don Barriga
We missed Taco Tuesday, so how about Burrito Saturday?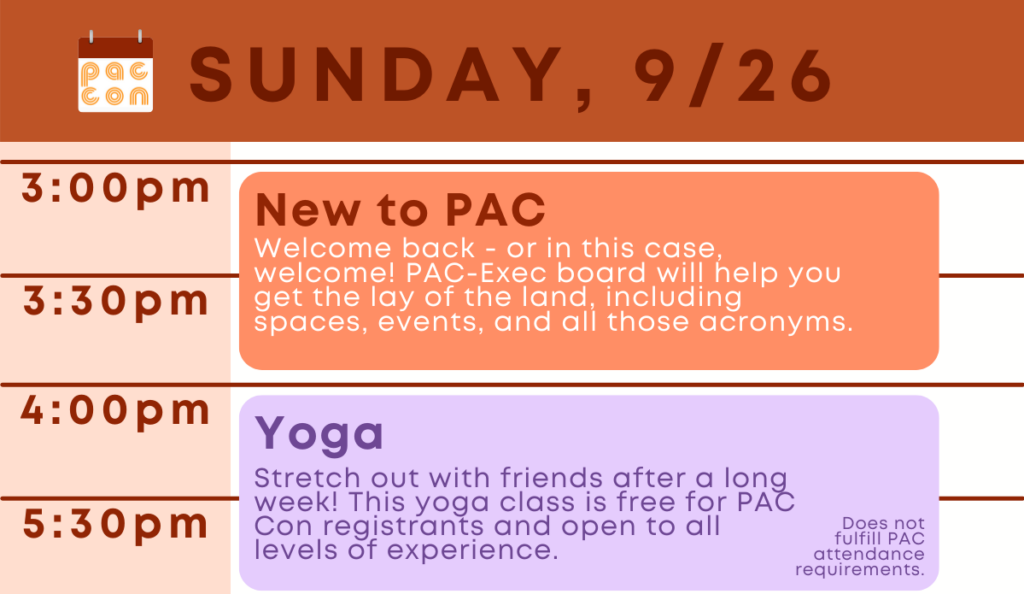 Sunday, 9/26
New to PAC
Welcome back – or in this case, welcome! PAC-Exec board will help you get the lay of the land, including spaces, events, and all those acronyms.
Yoga 
Stretch out with friends after a long week!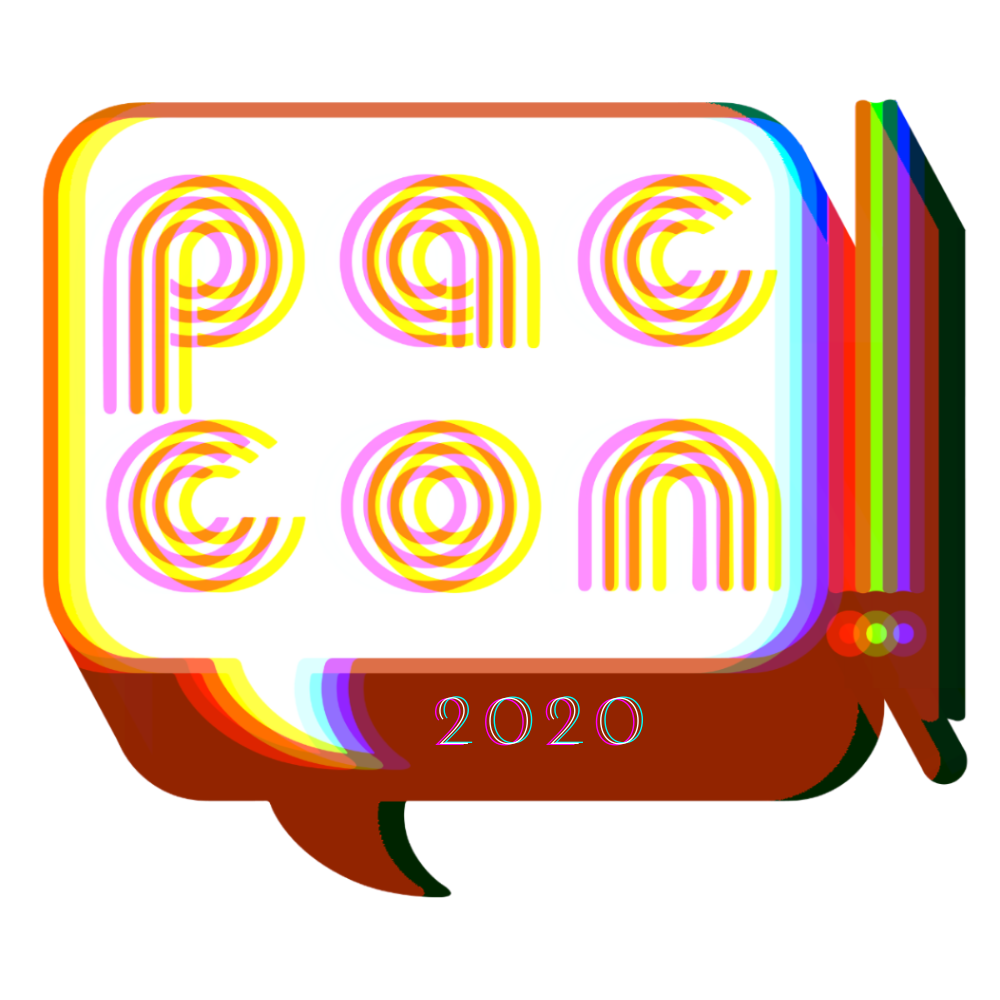 PAC Con 2020: Virtual Edition
The third annual PAC Con was held on October 9-11 with sessions contributed by the 20-21 PAC Exec Board, University Life, The Annenberg Center, and the Office for Social Equity and Community. This weekend of virtual programming included online rooms for conversation over meal breaks, and a Tech Hour meet-and-greet to address  tech roles, production management, and design for the virtual semester.
Writing a Land Acknowledgement
How to develop, and present Land Acknowledgement statements for in-person and virtual events
Keynote: Racial Justice & Art Making 
A space for reflection, resolution-making, and community healing.
Marketing & Social Media 
Tips from staff and students on how to make your online presence engaging, inviting, and inclusive.
Virtual Pre-Production (Video Production & Editing)
Technical resources for recording, streaming, or collaborating online.
Untangling Rights
How to request rights for the use of copyrighted music, text, or choreography on different platforms.
New to PAC
An intro to the Performing Arts Council's governing body, PAC-Exec, and the compacts that PAC follows. 
Connecting Virtually 
Soft skills, strategies, and social considerations to make Zooming more fun and more effective.
Hazing Prevention
What constitutes hazing, how to address it, and how to devise inclusive practices for member engagement.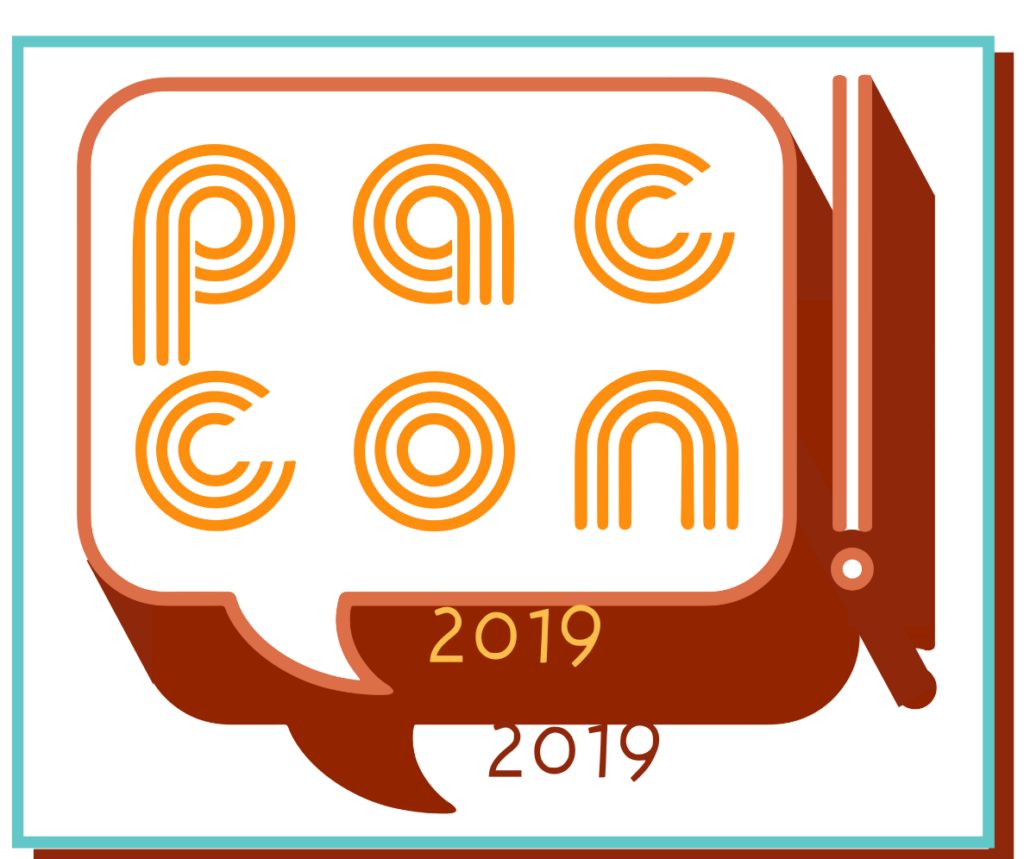 PAC Con 2019: Keep Calm & PAC Con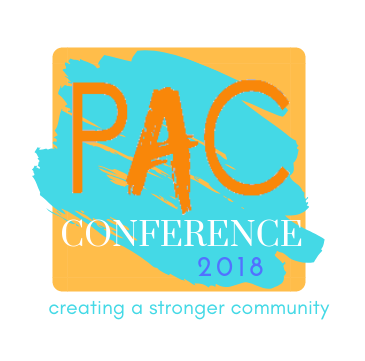 PAC Conference 2018: Building A Stronger Community