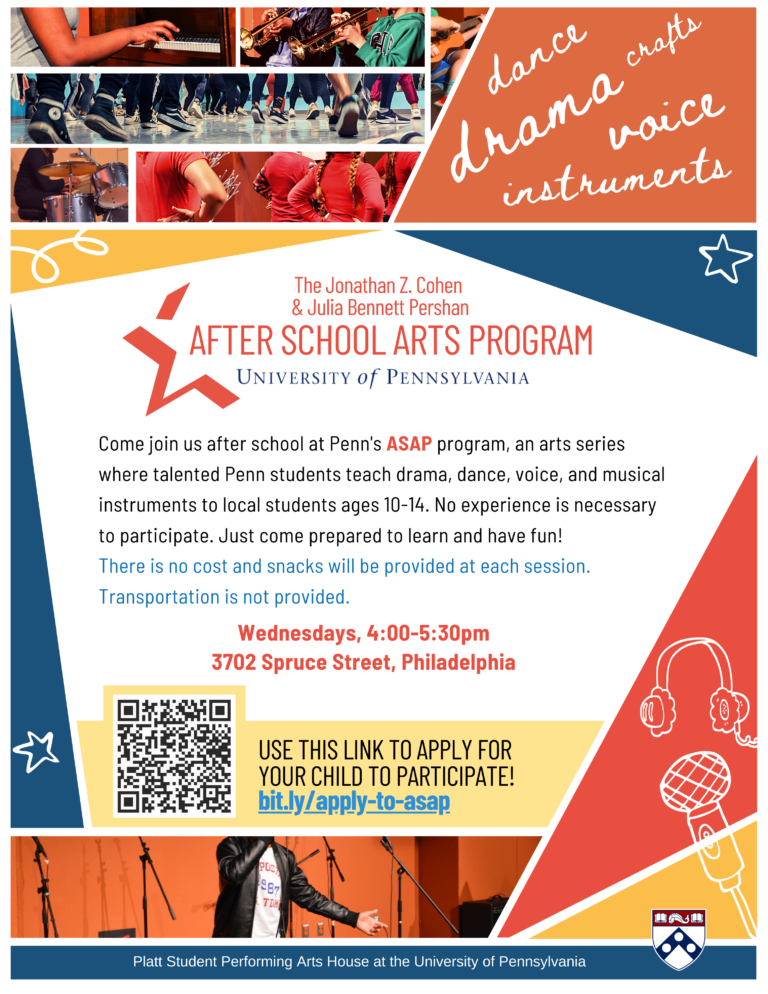 After School Arts at Penn bridges young and aspiring creatives, performers, and artists to peers and mentors on campus.
What is After School Arts at Penn (ASAP)?
The weekly After School Arts at Penn program, run by students and staff of Platt House at the University of Pennsylvania, is an introduction to the performing arts for students ages 10-14. Participants get to choose two areas of study – dance, acting, voice, and musical instruments – and receive mentorship and lessons from undergraduate student artists. A typical Wednesday afternoon includes icebreakers, art projects, and snacks. At least once per semester, the program will also feature a special presentation from a University performance club!
COVID Safety
The program will be held in person on University of Pennsylvania campus, which is subject to COVID-19 Mitigation Procedures as dictated by campus health and wellness offices. Penn's students and staff are required to be vaccinated, with leniency for those with a documented exemption – so our campus population has a high vaccination rate, but is not 100%. ASAP takes place in a basement space, so we're using air handlers to further reduce the possibility of airborne transmission in our rehearsal rooms and lobby. We have reduced the capacity of the program so that participants have the option of social distancing in our practice rooms and lobby. 
During the program, snacks are provided in our lobby space with the option of social distancing. Currently, masks are welcome but optional Masks and hand sanitizer are widely available within our space for everyone to use.
Spring 2023 Schedule
This Spring sessions are held only on Wednesdays from 4pm – 5:30pm, starting on February 1st. Students can report to Platt House at 3702 Spruce Street before 4pm to begin the program. The Spring 2023 session dates are listed below:
February 1
February 8
February 15
February 22
March 1
Penn Spring Break (no session) on March 8
March 15
March 22
March 29
Philadelphia School District Spring Break (no session) on April 5
April 12 or April 15 (TBD) -Talent Show 
Contact
Parents and Guardians are invited to join our contact list for text and phone notifications using our Remind notification system. Please make sure the cell phone numbers and email addresses that you list are the ones you check the most often, as we will use these channels to communicate COVID safety updates and possible program cancellations or changes.
Questions about schedules, contacts, or loaner instruments? Email us at platthouse[at]pobox.upenn.edu.